Imagine this: You have an idea for a recipe. However, you're not at work so you can't access CorTec or ChefTec. Perhaps you write it down, but wish you could simply create the recipe on the spot, while it's fresh in your mind.
Now, imagine having access to your software, anytime and anywhere. With ChefTec Anywhere Cloud Services, you can! This cloud-based hosting solution puts the power of the foodservice software in your hands at all times, wherever you are.
What does Cloud Services mean to you? We host your CorTec or ChefTec software and data in the cloud. By using our cloud-based solution, you do not need a devoted IT staff because our dedicated team of server engineers, who are familiar with your software, are available when you need support. CSS provides a complete cloud services hosting package including managed network, servers, security, and storage, as well as a designated account support lead.
Hosting your software in the cloud on Culinary Software Services' servers, the ChefTec Anywhere Package means you: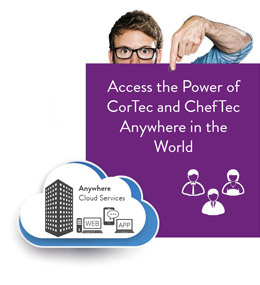 No longer need a dedicated IT staff. A team of experienced engineers are available to you.
Don't have to manage a network, servers, security, or storage.
Receive software upgrades automatically.
Always have the latest enhancements and most up-to-date software.
Can access your data anywhere in the world using your laptop or tablet.
Receive a year of secure cloud services environment and one year of technical support and basic "How To" training (with the Pro-Partner Plan).
Stop Worrying About Network Issues and Focus on Higher Priority Tasks
We partner with you to provide cost-cutting solutions that make your job easier and your business more profitable.
The cost of ChefTec Anywhere Cloud Services
is surprisingly affordable, depending on the software you use. To get an idea of the cost, please contact a sales representative.
Call toll-free 800.447.1466 or


or have
Patrick S call you.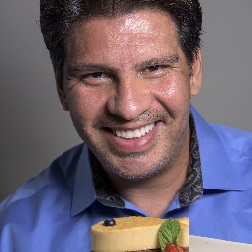 Contact \ Patrick S