"You've got a great approach to training. The team was engaged... As always it has been a pleasure to work with you and we look forward to continued collaborations as we improve our business model. We've got confidence in the system and ourselves. Thanks again for your efforts, patience, and good nature."

~A. Abad

Executive Chef




Sofitel Hotel, San Francisco, CA
Serving Fortune 100 companies and large enterprises around the globe, we deliver more than just a software package. Our team of trainers and implementation specialists develops a partnership with each organization to analyze every aspect of your foodservice operation.
Committed to encouraging a quicker return on your investment, we offer the necessary training and resources you need to maximize the software's capabilities. CSS forges ongoing, lasting relationships to support your business in achieving its goals over time.
Helping You Optimize Your Investment In CorTec or ChefTec.
We understand the importance of training your staff to optimize the powerful capabilities our foodservice software has to offer. Choose from the following training services available to you:
Achieve Even Greater and Faster ROI with One of Three Rollout Packages
or a Customized Training Program
An investment in our on-site training services gives you access to an experienced implementation specialist with foodservice experience who helps you analyze your data and provides customized solutions specific to your operation. You can choose from one of three standard packages or put together something totally customized.
Display All 3 Rollout Packages
Customized Training at Your Place

of Business on a Per Day Basis

This training can include:
Assessment of your operation and company goals.
In-depth review of your data.
Web consultations with your key staff to develop a scope of work for your project.
Follow up meetings to assess goal attainment and any subsequent needs you may have.
Provisition of a project plan that includes a time line for achievement of goals by your team.
Data entry.
Includes all transporation and accommodation for trainer.
The investment for on-site training at your operation is $3,975 per day.
Buy Now
Enjoy
Training in the Rocky Mountains

of Colorado

Get out of town! Our facility snuggles up to the Rocky Mountains in beautiful Boulder, Colorado. We can host you or your group for an in-house training on your schedule. Sign up today, and see for yourself how you can improve efficiency and start meeting your objectives.

Customized training at CSS headquarters comes at a reduced cost to you and includes:
An in-depth review of your data to determine your operational goals, prior to the training.
Uninterrupted training tailored to your specific foodservice operation and goals.
We'll take care of you! Breakfast and lunch will be provided, and discounted hotel prices are available.
Following the training, you will receive three hours of follow-up remote training and consultancy in an online meeting environment.
The investment for training in our facility is $2,395 per day.
Buy Now
Expert Analysis with our
Data Review

, Designed to Assess Your Progress

Have your data reviewed and analyzed by our experts. Our specialists will provide recommendations to help you institute best practices for keeping your data consistent. The data analysis will also ensure the timely attainment of your project goals.

This service is included for FREE in any the three "Rollout & Training" packages, but may be purchased separately for $2,000 for a one hour review.

Buy Now
One-on-One eLearning Class
When your team can't break away for pre-scheduled group eLearning class, take advantage of
personalized one-on-one training online for only $325 per hour.
"I really got a lot out of our one-on-one eLearning classes and now know what steps to take..."

~J. Nichols J Nichols Kitchen, Marina Del Rey, CA
Group eLearning Classes
Whether you're just starting out, want a refresher, or are exploring new functionality in your CorTec or ChefTec software, we offer dynamic group classes designed to bring you up to speed.
These group eLearning classes cost $79 (except "Test Drive", which is free) and happen several times a week. Here is just a sample of upcoming classes:
eLearning

Classes
Road Shows

- Taking Software Training On the Road

Every year our Power Trainers take to the road to present our software at various cities across the country. This unique and informative workshop will give you an opportunity to get comprehensive, interactive training. We highly recommend that you bring your own laptop to the Road Show.

You'll learn:
Inventory A to Z. The food on your shelves represents money -- learn how to protect your investment.
Menu Engineering. Learn how to use the recipe and menu costing features of the software to keep you profitable.
Advanced Features of the Software. Take cost control and efficiency to a whole new level with production management and sales analysis.
"The best part of the Road Show was seeing how the software works from start to finish and having a final product put together."

~A. Buck Fresh Diet, Jersey City, NJ
Take advantage of these 2-day Road Shows when they come to a city near you. Please check the Road Show schedule for upcoming events. Purchase three seats and you'll get a fourth seat with no additional charge.
Together we can review the software training challenges you face and partner with you to provide solutions that make your job easier and your business more profitable!
Have a question before requesting
a training package?
Call toll-free 800.447.1466 or


or have
Patrick S call you.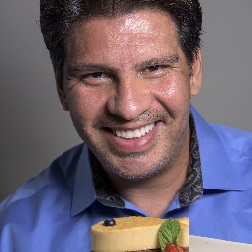 Contact \ Patrick S