ChefTec Ultra was designed with the needs of larger and more complex operations in mind. ChefTec Ultra is the ideal product for clubs, large hotels, universities, conference centers, or catering halls managing unlimited profit centers (it comes with ten profit centers already included). It features the very best in production management, comprehensive inventory control, recipe and food costing, purchasing, ordering, as well as waste and lot tracking.
A true inventory management software for the foodservice industry, you can track raw ingredients, deduct them from inventory and make decisions based on real numbers. Uncover which menu items are most profitable with Ask Theo, the "What-If" food cost calculator, which is included in ChefTec Ultra (and CorTec products).
The "ultra" tool for managing inventory and food costing, it gives you the ability to link with POS systems, your vendors' ordering systems, and QuickBooks. Starting with ten profit centers and the ability to add an unlimited number of profit centers, Ultra offers powerful features to run a complex operation or chain of foodservice operations. ChefTec Ultra also works with mobile tablets, when you purchase ChefTec Mobile Solutions. ChefTec Ultra helps you effectively manage your operation with features, such as:
Maintaining consistency between menu concepts and pricing with centralized management controls. Write, store, and scale an unlimited number of recipes with fast, flexible, and efficient recipe creation.
Accurately costing out your plates, menus, and events using current, low, high, and average ingredient pricing to get optimal menu pricing.
Highlighting usage, waste, and shrinkage so you maintain inventory control.
Keeping staff accountable for portion control and safe food handling with built-in Hazard Analysis Critical Control Point (HACCP) information.
Tracking inventory across multiple locations.
Generating orders automatically with user-defined par levels, shopping lists and templates.
Instantly converting orders into invoices and seamlessly interfacing with food purveyors ordering systems for ingredient and price communication.
Comparing multiple bids and real-time pricing data.
Producing an ordering guide from par levels.
Analyzing sales and tracking perpetual inventory to ensure necessary items are always on hand.
Ensuring your customers' safety with automatically generated nutrition descriptors and "Allergen Alerts."
Instantly calculating nutritional information for your recipes using the pre-loaded nutritional information for more than 1300 commonly used ingredients.
Enhancing your product packaging with pre-formatted Nutrition Facts labels based on USDA nutritional information.
Network versions available: Share data within an organization on one networked server for a consistent and comprehensive view.
Use mobile technology to increase efficiencies and decrease labor costs.
What Can You do With ChefTec Ultra?
Here are just a few things that come standard with ChefTec Ultra:
Recipe & Menu Costing
The recipe and menu management functionality helps chefs and owners quickly price a food service menu. As well, recipe and menu costing allows you to maximize profits by being able to calculate recipe costs, cut down on waste, reduce staff hours, and track inventory more effectively. ChefTec Ultra's Recipe & Menu Costing is surprisingly easy to use and will result in lowering your food costs three to eight percent. Menu and recipe costing can quickly show operators their percentage food cost for every complete recipe they use, allowing them to adjust margins based on the actual price of purchases by recipe or menu. With the right tools, owners can make informed decisions about menu "stars" and "dogs," to get the best return on investment.
Store, scale, and size an unlimited number of recipes.
Instantly analyze recipe and menu costs by portion or yield.
Update prices, change ingredients in every recipe, all with the touch of a button.
Cost an entire function or catering job in minutes. Generate accurate catering bids.
Add videos for preparation and training.
Add pictures of plate turnout, or plate layout, for consistency.
For an even greater reduction in food costs, Menu Engineering can be accomplished using Ask Theo, one of the unique functions of ChefTec Ultra.
Menu Engineering and the "What If" Food Cost Calculator
Do you want to know how to calculate food cost in a restaurant? Ask Theo is a sophisticated food cost calculator which gives you more power to manage your food costs.
After your recipes and invoices are entered, the total costs based on ingredients in each recipe, are added together. Then, the menu price of each dish is divided by the food cost to determine the percentage of the price that comes from food to determine if you have priced the meal correctly.
There are different ways to use the food cost calculator, such as setting a percentage food cost and allowing the calculator to specify the selling price. These "what if" scenarios give operators a comprehensive tool to determine menu pricing. Since your CorTec or ChefTec system will already include all your pricing information you can seamlessly bring in real sales numbers (interfacing available with any POS system!) to consider price point changes for menu items by categories or all together.
No need to crunch the numbers using complicated formulas on your own! Make seasonal menu changes, adjust for sale pricing, and engineer your menus easily, all in one software window. Use these numbers to budget, strategize, and build your best menu yet.
Do you know which menu items to place where on your menu? Use the Menu Engineering specific tools, such as the "Dogs and Stars" scatter chart to fine tune your menu design for higher profitability. With menu items categorized into categories like "Appetizers," "Entrees," "Desserts," etc., it is a breeze to cost all of your menu items. The software automatically plots your costed menu items onto the "Dogs and Stars" scatter chart reducing the time consuming step of manual analysis. The CorTec or ChefTec system will recommend which items to drop from your menu and which items you should have your servers highlight. It will even give you guidence on designing your next manu layout. Menu engineering has never been easier!
Inventory Control
Your food inventory represents a significant investment of money and time. One of the most sought-after pieces of ChefTec functionality, inventory control (also know as inventory management) is the quickest way to save those resources.
ChefTec includes several inventory management capabilities that allow you to see changing food costs, make changes to your desired food cost, quickly determine the total value of goods held in inventory, and compare this information to purchases and sales. With automatic updates and the ability to quickly generate reports, you will spend at least 4 to 8 fewer hours controlling your inventory each week.
Taking Physical Inventory was never easier: Using either sheet-to-shelf physical inventory worksheets set up for your locations or alphabetical sheets, taking and entering inventory counts is a snap. For even faster results try our Mobile Solutions for inventory taking.
In addition, the 1,900 inventory items preloaded into ChefTec save hours' worth of data entry and give you the information you need for accurate inventory tracking.
Get the fastest return on investment by keeping costs down and efficiency up with these powerful inventory features:
Track rising food costs automatically.
Compare vendor pricing at the touch of a button - from purchases or bids.
Enter Invoices quickly using the "auto-populate" feature.
Use a mobile Tablet for inventory taking.
Generate customized reports on purchases, price variances, bids, and credits.
Take the pain out of physical inventory, ordering, and maintenance of par levels.
Automatically track activity based on purchases and sales.
Calculate inventory on-hand for multiple locations.
Compare theoretical and actual usage and identify problem areas.
Calculate overall percentage food cost.
Preloaded list of over 1,900 ingredients with unlimited capacity for additional inventory items.
Lists of ingredients in different languages (such as, Spanish, French, and German) are available with
unlimited capacity for adding additional ingredients.
Nutritional Analysis
With ChefTec Ultra you can easily calculate nutritional values for your recipes and menu items. You can also obtain the appropriate information needed to meet both health requirements and the demands of health-conscious customers. Healthcare, education, quick service restaurants, cafes, grocery stores, manufacturers: these are just a sample of foodservice industry segments that increasingly want and need to provide nutritional information to meet customer needs and comply with government mandates. Some foodservice operations are required to post calorie content and make additional standard nutritional information available to customers. However, other foodservice operations are following suit and voluntarily offering this information. In part, this trend comes straight from customers themselves, who demand information on nutritional content of foods served to them. As food allergies have come to affect about two percent of adults and four to eight percent of children in the United States (according to the FDA), millions of consumers need to be alerted to the presence of allergens in the goods they consume. Without ChefTec Ultra, the process of analyzing recipes and storing this information for later use could be a cumbersome, expensive, and time-consuming process.
Get a quick and accurate analysis of nutritional values for up to 1,700 most commonly used ingredients. Add your own specialty items.
Calculate nutritional values for your recipes and menu items.
See at a glance which menu items are low fat, low calorie, etc.
Print the "Nutritional Facts" label, including the new 2018-style "Nutritional Facts" labels.
Print a wide assortment of styles of "Nutritional Facts" labels, including the Standard Vertical and Small Tabular for Small Packages.
Sales Analysis
Tracking sales dollars and incorporating this information with the known value of each inventory item provides a more complete picture of your operation's profit and loss. With sales information integrated into ChefTec, comprehensive reports become available, inventory is automatically subtracted, and discrepancies can be identified to alert you to larger inefficiencies or areas of loss. ChefTec Ultra's Sales Analysis functionality includes the ability to:
Track sales by day or period.
Rank sales by contribution to profit or number sold.
Interface for Point Of Sale (POS) as an add-on.
Purchasing & Ordering
In a successful foodservice operation, bringing in inventory is a constant task. Add to that the need to compare costs and track discrepancies, and you are on your way to a real headache…that is, unless you've got the most powerful back-of-the-house foodservice tool available. ChefTec Ultra's inventory management, sales integration, and purchasing and ordering functions combine to provide you an accurate and reliable system for determining exactly what to order, how much, and from whom. The software's deft cross-referencing capabilities provide instantaneous analysis and save hours of labor. Save more money and get hours back each week with these purchasing and ordering features:
Generate orders based on Par levels.
Order based on lowest price/lowest bid.
Generate orders for multiple vendors at a time or a single vendor.
Use a mobile Tablet for ordering.
Convert orders into an invoice instantaneously and modify for changes upon receipt of goods.
Track purchasing in detail and summary.
Ability to analyze by inventory category, account category, profit center, location, etc.
Instant flag on price increases and decreases.
Compare vendor bids and actual purchases between vendors.
Also included for free for the first year are these indispensable modules:
Alerts and Reminders Module - Stay on top of actions in ChefTec by setting your own personal reminders.
Alerts - Get Alerted About Important Actions
Set up your own criteria for automatic alerts. Get alerts when prices increase above a specified percentage or dollar amount, when prices exceed the bid price, when prices haven't been updated in ChefTec, invoice discrepancies, late orders, and so much more. An invoice comes in with an vendor pricing error – you'll know immediately. We understand that CorTec and ChefTec are not one-size-fits all. That's why customized alerts will meet the needs of your operation. You'll have accurate, real time information needed for maintaining your profit margins.
Reminders – Set it and Forget it!
Set up personal reminders for those time critical operational tasks. Schedule any number of reminders for specific dates and when and how long they need to be repeated. Inventory due dates, ChefTec reports to submit, orders to be placed? These are just a few examples of the types of reminders you can create. The reminders function of the Alerts and Reminders Module is a great management tool. It's also a great for tool for training new employees – no need to remind them of their daily routines.
Hazard Analysis Critical Control Point Information Module (HIM) - Accurately manage food safety.
With the fully integrated Hazard Analysis Critical Control Point (HACCP) module you get pre-loaded handling information on specific food types, as well as an audit trail. The software provides you with a complete management system for controlling all food safety. Storage and cooking temperatures, as well as handling and usage procedures, can be customized and automatically associated with recipes based on your specific inventory needs. In addition, you can add safe food handling procedures from the USDA or your local health department.
Training new employees to safely handle food is an important step in preventing foodborne illnesses from hurting your customers, reputation, credibility, or profits. Having food safety information readily available is vital to keep your kitchen food-hazard-free. Ensure that your employees always have the information they need to keep preparation techniques up to code. When you have the resources you need, you can avoid the costs and penalties associated with a food safety mistake.
Our software products are rated #1 in functionality and customer service. A proven product at an affordable price - with ChefTec Ultra it's that simple!
We are doing about $150,000 in sales each week in each unit, so I need to be on top of things... With ChefTec it is simple for me to write recipes, cost them out and then send them out to our other units. It makes this sort of enterprise-wide communication much more efficient. I honestly don't know how operations with multiple locations manage without a software tool like ChefTec.

~ Bob Tappan, Corporate Executive Chef

Bricktop's Restaurant, Nashville, TN
Want Even More? Boost Productivity With These Additional Modules
You may select one of the following modules at no additional cost, with the option to add on the others:
Event Management Module (EMM) - Organize and streamline event planning.
Catering demand is on the rise and the Event Management Module makes meeting it easy. If your operation caters events, you need the comprehensive functionality available in ChefTec's fully integrated system. Create banquet and event-specific menus and cost them out with real numbers from your invoices and inventory. Make adjustments quickly based on budget, food allergies or restrictions, favorite recipes, and more. With the Event Management Module, you have the ability to respond immediately to last-minute changes. Cost out non-food expenses like staff and rentals, manage client and venue information, and generate detailed quotes and final invoices. The Event Management Module also manages client and venue information. Simplify processes even further with optional Caterease and Quickbooks integrations.
Production Management Module - Keep your schedules tight and precise.
Streamline processes and increase efficiencies. Reduce your labor costs. Create integrated prep sheets based on par levels you define, recipes, and sales data. Seamlessly update inventory.
Create production sheet manually, by template or based on par levels.
Automatically split Master Production Sheets into Location Production Sheets.
Raw inventory automatically depleted through completed production sheets.
Production recipes from completed production sheet are added to finished goods.
Lot Tracking Module - Easily protect against food recalls and prevent spoilage.
Track and manage production and sell-by dates of your inventory. Stay in compliance with FDA food regulations.
Waste Tracking Module - Manage your foodservice waste and stop wasting your profits. Also account for donated food.
Take cost control to a new level with automated reporting on food waste by station, loss reasons, disposition, employees, or shifts. Increase your profit margins without diminishing your customers' experience. Quantify what you're wasting and improve your bottom line.
Track Waste By
Station - such as Hot Line, Salad Station
Loss Reasons - burnt/overcooked, dropped, customer issue, expired, damaged, spoiled
Disposition - garbage, garbage disposal, pulper, compost bin, donated
Employee - hold your staff accountable for the waste they contribute
Shift - determine if there is a particular shift where there is more waste
And the benefits?
1. Increase your profit margins without affecting your customers' dining experience
2. Pinpoint the areas where the most waste is being generated and modify your practices for improvement
3. Create less landfill waste and a more environmentally friendly operation with greener working practices
ChefTec's analysis reports can show:
Dollar value of the waste by all the above criteria
Food waste as a percentage of food purchases
Dollar amount and donation agency of any donated food
...plus many more!
---
Arrange for Unparalleled Training to Ensure Success
Unlike other software providers, Culinary Software Services - the creators of ChefTec and CorTec Software - partners with you to provide the necessary resources for maximizing the technology and realizing a profitable return on your investment. We deliver unparalleled training and support designed to ensure that you get ultra value for the most comprehensive implementation of your software!
With the price of ChefTec Ultra starting at $2,295, ChefTec Ultra can be customized for any size operation by purchasing additional modules, such as Production Management, Lot Tracking, or Waste Tracking. Network versions of ChefTec Ultra are also available.
Not Sure if ChefTec Ultra is Right for You?
ChefTec Basic: For chefs and foodservice owner/operators needing Recipe & Menu Costing, Inventory Control, and Purchasing & Ordering at a price all foodservice operations can afford.
ChefTec Plus: Provides additional tools for monitoring costs and tracking inventory. ChefTec Plus offers all of the functionality provided in ChefTec Basic (above) plus perpetual inventory, sales analysis, theoretical inventory reports, and multiple profit centers (up to five.)
ChefTec Ultra: Our flagship ChefTec product meets the needs of complex operations such as large hotels, clubs, educational facilities, and conference centers with multiple profit centers. ChefTec Ultra includes the Alerts & Reminders Module, the HACCP Information Module, an additional module selected by you, as well as the ability to move information, such as moving recipes between profit centers.
ChefTec Basic
ChefTec Plus
ChefTec Ultra
Physical Inventory Extensions and Shelf-order Inventory
Recipe Costing
Menu Costing
Onscreen Nutritional Analysis
with Allergen Information
Print Nutrition Facts Labels
Comprehensive Inventory Control
Perpetual Inventory
Purchasing & Ordering
Ordering - Automatic Based on Par Levels, Theoretical Inventory, or Shopping Lists
Sales Analysis
Calculate Overall Percentage Food Cost
Password Capability with Multiple Read/Edit Rights
Create Shopping Lists for Banquets and Functions
Works with Mobile Handheld devices
Network Versions
Multiple-language Inventory lists (French, Spanish, German, and Dutch)
Ask Theo: 'What If' Food Cost Calculator for Menu Engineering
Menu Engineering - with Stars and Dogs
Labor Costing
Pars
(Single, Daily, Calculated)

Single

Multiple

Profit Centers
(additional add-on profit centers)

1
(none)
5
(none)
10
(unlimited)
ADDITIONAL MODULES
Alerts and Reminders
(add on)
HACCP Information
(add on)
Event Management
(add on)
Choice of One FREE/Purchase Additional
Lot Tracking
(add on)
Production Management
(add on)
Waste Tracking
(add on)
BUSINESS SYSTEM INTEGRATION
Online Backup Service (Regular)

(add on)

(add on)

(1 yr inc.)
Online Nutritional Analysis Service



(add on)

(add on)
Functionality to Import Purchases from Food Purveyors (Vendors) Online Ordering Systems



(add on)

(add on)
Functionality to Import Order Guides from Food Purveyors (Vendors) Online Ordering Systems



(add on)

(add on)
Functionality to Place Orders to Food Purveyors (Vendors)



(add on)

(add on)
Functionality to Import Sales and Pricing from POS Systems

(add on)

(add on)
Functionality to Import/Export Recipes in HTML

QuickBooks Interface
- Desktop Version
- Online Version

* EDI Interface Service for Seamless Ordering and Invoicing



(add on)

(1 yr inc.)
* 1 year included of invoicing for one vendor: Performance Foodservice, Reinhart FoodService, Sysco, US Foods, Maines, or UNFI. Reinhart FoodService, Sysco, and US Foods also include ordering.
Simplify Your Workflow and Increase Your Profit Margins
Get your specific questions answered regarding which version of ChefTec is the best foodservice software solution for you.
Together we can review the day-to-day challenges in your operation and discover the many ways we partner with you to provide cost-cutting solutions that make your job easier and your business more profitable!
Call toll-free 800.447.1466 or


or have
Patrick S call you.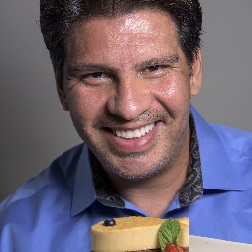 Contact \ Patrick S